The Warriors didn't plan on the upcoming season without Baron Davis but unlike other Front Offices they were prepeared to make a risk by signing Monta, Biedrins and stay well under the Luxury Tax. Baron was set to make 17 milliion in 2008 one of the reasons the Trade exception was let go even though a Power Forward or backup Point Guard would increase Barons producivity such would be the less minutes he would play.
The misfortune of this move lies in the fact the Warriors were never seemingly ointerested in becoming contenders. With the expiration of the Trade Exception and the decision not to trade their current draft picks for immediate help (could turn out to be a very good thing), the Warriors basically said to Baron that they will try to win with the same group of guys and not pay the
Luxury Tax
. For Baron the lack of any signifant addition at that time combined with just resgning a few players wasn't going to it for him. His deal signed with the Clippers virtually confirmed his belief not only he was he more interested in playing back in his hometown but they were more contending material (they had Brand at the time).
With Baron out the Warriors realistically were never going to reach the same heights of last year and this year. So lets chronicle each of their moves Mullin has made to attempt to rebuild his way through this patch.
Drafting Anthony Randolph
Randolph was an easy pick because he was the best player available at the time the Warriors picked even though most had him in the 8-13 range. I was surprised as many the Kings opted to take Jason Thompson instead but time will tell whether they made the right decision. He was touted as a #5 pick but he had a horrible combine reportedly poor workouts and psychological testing, coupled with his slight frame and lackluster statistics. Then again as judged by the number of teams that went for the allgedly safer pick the fact that for once the Warriors ignored a definite bust DeAndre Jordan means top marks to Mullin here.
Randolph is in my eyes a younger version of Lamar Odom. He played Point for a few plays in Summer League and he was unblieivably quick at bringing the ball up the court he's wiry strong and very aggressive going to the rack. He's able to take contact and finish, as well as make his free throws. He could be a mismatch nightmare for teams. Pack that talent into an agile 6'-10" frame (still growing?) and you have the ultimate Nellie-ball weapon
Grade A-
Drafting Richard Hendrix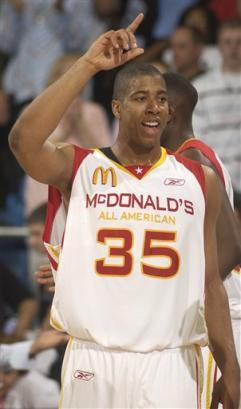 With the second round pick this was actually an easy choice because another big man that seemingly filled their needs was right there Richard Hendrix. One of the attributes Hendrix carried in College was toughness and consistency in one of College Basketball's best Conferences. We didn't see too much of him in Summer League because of injury but in the few games he did play ion depsite playing at less then 100% he managed to pull down 21.2 reb/48 min, 2.23 blk/48 min, and 1.67 stl/48 min. His bulk, instincts, and tenacity to collect rebounds at a high rate as well as block some shots and bang with the bigs is a valuable asset to this team.
DejanBodyroga
Grade B+
Trade exception not being used
Unfortunately this is the most underated mistake of the offseason. When Richardson was traded the Warriors gained a 10 million trade exception that could have been used in so many ways at the backup Point Guard Spot or a Power Forward but unfortunately the conservative nature of the Front Office struck when they decided not to risk spending further so they would have enough money to resign Monta and Biedrins without getting luxury tax. the Warriors had an owner more concerned about building a winner rather than maximizing short term profits, the Trade Exception would have been used
Grade D-
Baron Davis opts out
The Front office can be held for 50/50 blame here but at the same time they didn't want to committ to a long term deal with Baron and rightly so considering his injury history. Baron wasn't feeling the love and because the organization wasn't making an all-out effort field the best team possible for a title run, Baron Davis decided to forgo his final season of his contract, leave $17 million on the table, and agree to join the Clippers and Elton Brand (or so he thought).
The Warriors tried to offer the
max for Gilbert Arenas
and did the same for
Elton Brand
but both were soundly rejected. Baron went and the Warriors got nothing except Maggette from the Clippers. No ones fault but you just had to feel Golden State could have got something more productive in return.
Grade C+
Signing Corey Maggette
Maggette is a one dimensional injury prone who won't make the Warriors better. It's that simple and shows the panic nature of the Front office whenever the top two sought after Free Agents leave. Fortunately he won't be the go to guy this year because of his limited game, lack of defense, and the fact that he doesn't make his teammates better. Rather then Mullin go after Josh Smith, Andre Iogudala or a younger player with more upside he chose to overpay for an efficent but injury prone player who's approaching the waning years of his career. Even JR Smith would have been an improvement. Hey if Nelson can turn around the careers of Davis and Jackson he coud do the same thing here. No vision here for the future here means the Warriors will be stuck with a pricey player and in the worst place possible mid to late Lottery pick rather the potentially rebuild with a core of youngsters and see what happens.
Grade D-
Signing Ronny Turiaf
Whether you like it or not once Turiaf was offered the offer sheet by Mullin because of the size of it it was inevitable the fun loving Martiniquian would be heading to the Bay Area. Though I dsilike the Lakers Turiaf's energy, hustling for loose balls, Rebounding and cheering on his teammates even when they were going through a dry spell was ineffectious to me . Going away from his playing quality throughout this long and upcoming year Turiaf will look to contribute through his well known sense of humour that can keep everybody's spirits high and encourage teammates when the going gets tough. He's slated to be Biedrins' primary backup, but can also play the PF as well. He gives the Dubs the well known big body that has been misisng for several years plus his mid-range game is solid allowing him to play with either Wright or Biedrins as a complimentary frontcourt mate.
Trading for Marcus Williams
I liked this move probably because it's the most underated aspect. Williams was labelled the best Point guard from the 2006 draft (not saying an awful lot) but despite being labelled as the backup to Monta expect him to start at the 1 for a few games while Monta moves to the 2. Here's hoping he has success for Nellieball. He could be an important part of the youngsters base . The Warriors have two seasons to see how he will fit into the system and I'm sure his ability to run the fast break, find the open guys, and knock down threes will help him become a part of the Warriors' future. Although Javaris Crittenton or Kyle Lowry would have been a better addition this was a low risk move.
Grade: B+
Matching Kelenna Azubuike
Could you imagine two former Dubs on a division rival. But in all seriousness Mullin had to match. Compared with
Maurice Evans
even though both stat eise are virtually the same it was the right move to match. In a few years he has all the potential to fill the shoes Richardson left because of his productivity. Ccoring, rebounding, perimeter shooting, and clutch play combined with timely Rebounding Azubuike is a rare smart player in Nellieball. Combined with plenty of upside, a lack of injuries his contract is very reasonable
Grade B+
Monta Ellis resigned
Obviously this had to happen otherwhise the number of empty seats in the Oracle for next season would be evident and even with the hefty size of the deal Monta's playmaking ability as well as singlehandedly winning 4 or 5 games last year meant it was a case that Mullin had to show the money. I would be lying if I said it wasn't worried. He has to make the transition to Point Guard and earn Iverson handles as well as playing tight rather then lazy Defense, For a 23 year old he's now forced to be the number 1 option after Baron Davis's departure, The Former Most Improved player now has the task of becoming the leader assuming a Stephen Jackson role . He has to fight through screens, move his feet, and use his world-class quickness to stay in front of him but most importantly he has to try and become an All Star even as a reserve. This team hasn't had one since Sprewell and if he increases his PPG average to 24 and 25 he would earn consideration. Ellis is the fastest player in the NBA, is unstoppable 1-on-1 in transition, and is among the best finishers in the league
With his contract paying him 11 million per year somewhat hefty for a guy who hasn't proven he's clutch develop into a franchise player that makes his teammates better, he will be well worth his contract of 6 years / $66 million.
Grade A-
Signing Anthony Morrow
The revelation of the Summer League and good enough to earn a mimimum deal with the team Morrow because of his size plays SG and Forward in Nelsons system but what put the pen to paper was his 3 point shooting percentage from downtown but was also apt at rebounding, blocking shots, and doing a decent job on the defensive end. The positive really is Bellinelli gets increased competition to avoid being passed up in the depth chart by this specialist that hits outside shots at a higher rate, is bigger, and has better rebounding and defensive abilities. We shall see.
Grade B-
Re-signing Biedrins 6yrs/63 million
Another young player locked up for market value. After years of suffering with Dampier and Foyle dropping passes... watching Andris play has been a joy to watch. He has soft hands, great feet, and a knack for scoring underneath. On the defensive side he is a very good rebounder and changes shots... if only the refs gave him some respect instead of tagging him with BS fouls. He's still very young at 22 and we haven't even see him come close to realizing his potential until Nelson leaves or commits to playing him for 30 minutes and running a few plays for him. Before we got Harrington and Jackson.. Biedrins was developing a solid low post game. He's one of best young bigs and he already has 4 years of NBA experience and is a proven double double guy in limited minutes.
For some this off-season could be seen as a disaster, but outside of overpaying Maggette (which is the main knock on the deal $$$$, not Maggette himself) Mullin did a great job this off-season, IMO. Sure we lost BD... but we were losing WITH him. You play to win Championships and Mullin has set the team up this season to be balanced, flexible, and and competitive even with so many young players. He has certainly learned from his mistakes in the past and us Warrior fans will be looking back at this off-season as the beginning of a new era.
Overall Grade C+