Mullin doesn't know what he's doing. Hate to begin this post extremely harsh but the amount of contracts offered to supbar bench players after we learned the
76ers got Brand
to a 5 year 82 million deal. So then what on earth propelled the front Office to offer Maggette a ludricious 5 year 50 million deal which it now looks as if
he's accepted
. A few points to take out of this day
Say hello to our newest Warrior:
The Warriors obviously offered Correy a 50 million dollar contract which is almost double the midlevel deals reportedly offered by the Spurs, Celtics and Pistons. All I can say if the deal foes through is this is another vast overpaying of a player by our Front Office that in the past almost killed the team see the contracts to Dunleavy and Foyle. It's mind bogging how anyone could trade away Richardsons 50 million contract and then give it to an inferior player such as Maggette. Contrary to what people think he won't be a good fit in Nelsons system he's a ball dominant three who relies on a half court game to get to the foul line off dribble penetration. He's well known for his lack of Defense and I don't see how this helps the young guns on this team Belinelli, Azubuike, Randolph, and possibly Wright. . He's efficent at scoring and unlike most of the roster he has the ability to get to the line but in the post Davis era he doesn't have the lockdown mentality they need if they want to make the transition to a successful Defensive team.
Oh and did I mention he's injury prone? He's never played a full season. The most games he's played was 77 and that was his rookie year in Orlando. So let me get this straight, Mullin doesn't want to extend Baron for 5 years because he's injury prone, but will sign Maggette for 5 years at $3 million less per year than Baron?
:
Fire Mullin?
In terms of basketball and putting a winning team out there, it's debatable whether or not I'd keep him. I'd probably get rid of him. But he's really taking this entertainment business to the extreme. Even in the offseason he keeps Warrior fans on edge. Last year was the KG sweepstakes and this year we've got all sorts of drama. Taking out all basketball decisions, Mullin gets an A+ for keeping Warrior fans on the edge of their seats in what was thought to be a boring offseason. Entertainment at its best! Okay back to reality...
:
Rumours also arising that the Warriors put an offer to
Ronny Turiaf for 4 years 17 million
the Lakers have a week to match the contract. Ronny is restricted, so if the Warriors sign him to an offer sheet, the Lakers can match. There are certain intangibles I like about Turiaf he's a hustler with a body not afraid to bang against anyone but at a distant glance further afield he doesn't look impressive. I can easily see him as a backup Center able to provide the minutes that Webber lacked last season If this does pan out true though how does this lead to the development of Hendrix. He will be wasting away on the bench should this result. . I really want a backup center who can't play at the same time as Biedrins or Wright. None of those guys has the offensive game to complement the other.
If the Warriors were going to lock up money in a restricted free agent, there's some high energy guy in Houston I would have liked, Carl Landry.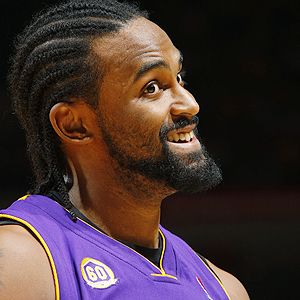 Pietrus has more then likely left for Orlando. I'm starting to think the Magic is our perrenial home for Players that never panned out see the
Adonal Foyle move
. Apparently the GM there (Otis Smith) likes Pietrus and considering Maurice Evans left they needed a Shooting Guard. Hey for a guy who has one of the lowest Basketball IQ's on the court, committs stupid fouls relentlessy, takes a lot of stupid shots most of them bricks I can't say I'll ever miss him. Unlike other ex warriors he won't become the list of players who have come back to haunt us He does play a spot of good Defense now and then but overall he was just a liability and fortuntely Mullin wasn't as stupid as to give him a new contract aka the Fisher one
:
Just going back to the Brand move. He turned down a deal 10 million more then Philly and wanted to be the face of the 76ers. That was a straight slap in the face to the Warriors. Did the Warriors really think they were going to get a player better than Baron. Then again with the Clippers he turned down virtually the same amount Los Angeles got up to $80 million and was willing to renounce more players if necessary to give Brand more. Still, he chose Philly.
:
We have a big roster right now should both signings be confirmed. Azubuike, Belinelli, and Watson are bench players Our starting line-up also now features Monta and 4 guys over 6-6. Jackson will probably start at SG because he can't rebound very well while Maggette doesn't take advantage of his size on Rebounding or Defensively but he should be able to run pretty well with the team. Our bench is pretty deep guys who are ready to contribute now (Harrington, Azubuike, Turiaf all ready to contribute and unlike last year Mullin and Cohan have given Nelson more pieces to work with
:
Eventually Monta and Andris will want more then Maggette. I would give Ellis more money Say the Warriors start Monta at $9 a year (which would be $67.5M contract over six years). And say they start Biedrins at $8. Jackson would be the 5th highest paid player on the team . This is all based on assummptions but I doubt a player who's watched the Warriors reluctantly show the money to Barnes and Pietrus in the last offseason as well as allow Baron to opt out would be much interested in signing a new deal. Either way expect Jackson to possibly opt out when his deal expires as well.
:
Lastly the Warriors aren't done yet or shouldn't be. Use the cap space used for Barons contract and go after Rasheed Wallace, Shawn Marion Lamar Odom or even trade Stephen Jackson - to get a proven All-Star. They all are one-and-done, which could give the Warriors cap space next year if they don't work out. Even more likely ship Harrington out for a Point Guard. Why? Because Maggette will pick up his mid range scoring, Marco has the 3 point shooting down even though it's very streaky and Turiaf will take his spot at backup Center. With Hinrich, Felton, Lowry, maybe Billups on the market I'm not 100% sure either of those teams would need Harrington but PG is still their biggest need. Hard to imagine a backcourt of Ellis and Jackson.
With all this excitment lets not forget the summer League kicks off in a few days. Three months ago the Warriors 07-08 season finished against the now defunct Seattle Supersonics. Todat the 08-09 season is offically well underway