Versus
Tonights the ultimate test for Golden State. After an all too comfortable victory in Seattle last night they face the best team in the East the Orlando Magic whop are coming off an impressive victory in the Staples Center. Part of the reason for the Magics sudden revival is the emergence of Dwight Howard into a deep MVP candidate. His numbers are 23.8 ppg, 15.0 rpg, and 2.7 block a game which are Tim Duncan numbers no two ways about it. From a Warriors fans perspective it will be nice to see how Beans matches up against him and to also see his rimbreaking dunks but on the other hand this will be his only visit to the bay otherwhise his collection of nasty dunks would be significant. Apart from Howard this really appears a dead even matchup. We have the Defense to shut down their other scoring threats like Lewis or Turkalogu so it really depends on whether Dwight gets hot. Hopefully Harringotn like he did to Yao can counter this although it's doubtful. To even stand a chance the Warriors have to shoot the lights out tonight because I can't envision Nellie going small against this much taller Orlando team. We'll have to resort to good hard nosed Defense, Beans dominating Howard in the post much like he dealt with Chris Wilcox last night and a ton of steals to beat the Magic.
Oh did I forget to mention Adonal Foyle. Yes Warrior fans still feel peeved that we passed on a certain NBA All Star SG for this guy but he deserves a standing ovation from everyone at the roaracle tonight for the off the court anbd contribution he gave us on the court. It didn;t help that Mullin gave him a big contract so fans increasingly put him under pressure to become the big next thing. Yet he did everyting he could do to help the team and he is the franchise all time leader in blocked shots. In fact at the Staples he had 8 points, 7 boards and 3 blocks in just 12 minutes (4-4 shooting. Not many role players could make that type of imapct. I for one am glad to see he's doing well in Disney town.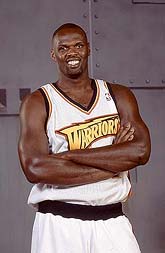 Thanks for the memories
Should the Warriors double team Howard. If they opt too it has to come early and often because the Magic has four talented shooters around the court especially Rashard Lewis so any quick release will be fatal. On the other hand as much as I wish Foyle well I can see us having s big advantage when Howard comes out so we should have a Field day inside. To add to thatDavis is going up against Nelson who is one of the more mediocre PG's so expect a big game from him. One last point. After one of their rare losses to the Suns the Magics coach Van Gundy had this to say.
I thought they did a pretty good job switching pick and rolls and stuff," Magic . "Their energy level was very high, and I thought they did a very good job of closing out and getting to our 3-point shooters." "As quick as Nash is, he can't even match Barbosa's quickness," . "Leandro Barbosa is the fastest man in the NBA
Hopefully when he finds out how fast Monta is he will be signing his praises.
Perdictions:
Howard has a Monster game
Foyle gets a standing ovation
3 of our starters score in double figures
Jackson holds Rashard Lewis to 12 points
Warriors by 2