The first Overseas game abroad outside of North America was played yesterday and depsite the appalling conditions and the lacklusterness of the Dolphins play there was no doubts that in some parts this was a success. Rather then write an essay on it I think it would be best if I rated it on categories such as atmosphere, quality of game, , Game entertainment etc. So here we go
Atmosphere 6\10: When the registration on the NFL London website finished it was announced there were half a million Ticket applicants. Like I said before in my previous post this figure perhaps didn't conclude the fact that there were multiple registrations or people registering for many Tickets then they had too. Despite all the hype from the NFL UK office about this the atmosphere was flat. It didn't help perhaps that from observations a lot of the fans had neutral NFL Jerseys or BAFL or IAFL Jerseys. Although their were obviously Dolphin and Giants fans about and they made noise it didn't seem to strech from all ends of the Stadium. Of course it didn't help that the quality of the game wasn't the best (More on that later) but there just wasn't the interaction I expected. Towards the end like whats common at any other NFL Game where the Winning team decides to take a Kneel and end the game there was booing from the Fans who wanted more. This left a bad mark on Tom Coughlin the Giants Head Coach and Tony Siragusa who both commented on the fans lack of knowledge when thats not really the case
-
Too much of this
.
And not enough of this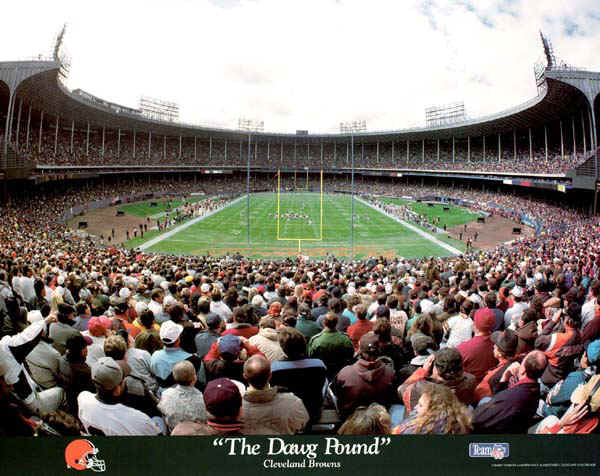 Of course I wasn't expecting the crowd to resemble anything close to the Dawg Pound but at the same time the lack of atmosphere in the 1st and 4th quarters were painful. The only time they came together was the Streaker bit wwhich won't want to be replayed by the Wembley staff thats for sure.
Quality of game 5\10: Obviously because of the wet conditions this game was never going to be a classic. The 2007 Dolphins could make a case for being one of the worst NFL teams ever and this was illustrated yesterday with countless silly penalties and Lemons inconsistent performance. Countless times yours truly wanted Beck to come on to show the whole crowd why he was worthy of being drafted ahead of Brady Quinn but sadly it never happenned. Apart from one beautfiul throw to Ted Ginn Jr Lemon was bad. Jesse Chatman managed to materialise a 79 yard Running game but it was obvious how badly Ronnie brown was missed. It really didn't help that when the Booth decided between a 3rd and 4 pass was complete or not the geniuses in the P.A system decided to blare out a Bon Jovi song over the Referees call meaning you couldn't hear it.
As for the Giants they didn't look much like a 5-2 team either. Figuring out Eli Manning passing the ball wasn't going to work they consistently ran it on the ground and to good effect with Brandon Jacobs one of the best short yardage Backs getting 132 yards and looking like Tiki Barber within every play. With Manning running it in for a 10 yard TD run making the Dolphins Defense look stupid the game was over at the half which just had room for a Lawrence Tynes FG to put them up 13-0. Aside from the Running game a few catchable balls wre dropped notably by Plaxico Buress and an assured INT was dropped. Still it didn't look as if they had to sweat it and no doubt after the Skins getting hammered by the Pats they will be happy sitting innd place in a competetive NFC east.
Stadium and Concessions: 8\10 I shouldn't have to say anything about this
So instead I'd rather focus on the concession parts. All around the stadium were merchandise stands displaying the Giants and Dolphins merchandise and various other gear including a NFL 2007 London ball which I couldn't take home because of the ludricious Airport security rules. Having bought more Dolphins jerseys then I can remember I was dissapointed that there was very little else. It said somewhere that there were 32 Merchandise stands yet I counted 16 all displaying Dolphins and Giants gear. Surely realising that there were Saints, Broncos, Raiders, Packers, Cowboys etc etc Reebok could have sold jerseys from these teams. Reebook and the NFL missed a great chance here. The queues were also long as well but I didn't expect anything else. The Pitch itself was in an awful state with most of the Grass suffering but still you have to think with all the preparation going into this event something could have been prevented tat stopped the Field breaking up after 1 Quarter.
Pregame\Halftime show: 7\10: I've never heard of the Felling and based on their pregame performance I'm glad I didn't. Maybe it's because I'm not a major Rock fan but it was dire and it didn't seems as if they were playing live the acoustic TGuitar was definetely off. However the National anthems were quite good with Jocelyn Brown and Paul Potts both on the mark. With Haltime entertainment non existant the real highlight was seeing a Streaker run onto to the pitch and strut his stuff with the officials having no idea what to do.
Overall I'm rating this as a postive experience. Even though my perdicted score was 35-19 and ended up 13-10 Giants at least I got the Lawrence Tynes perdiction right he missed a relatively easy 29 yard FG. Success or Failure well a success in my eyes despite the obviousness of a few empty seats. The man of the Match in my eyes is